4.8.19
For this week's STATCAST investigation, I'll be taking a look at the importance of pitch framing, receiving, and presentation. Specifically, I'll be using San Diego Padres backstop Austin Hedges as an example. Hedges is widely considered to be an elite defender, and many have commended him on his pitch calling and how he handles the Padres young pitching staff.
The value of pitch framing, receiving, and presentation is evident by looking at how offensive statistics differ based on the count. As seen in the graph below, BA, OBP, SLG and OPS all depreciate rapidly in strike favored counts. With that being said, both average and power output is affected based on the count. 
Hedges does an excellent job of "stealing strikes" by receiving balls out of the strike zone well, and presenting them as strikes to the umpire. It is a difficult skill that is often unheralded and unnoticed, especially if done well. While umpire variance should be considered, the presentation of borderline pitches has an influence on how an umpire perceives and calls the pitch.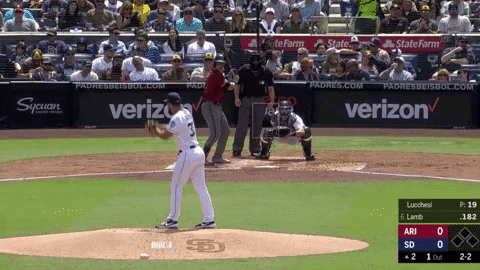 In this GIF, Hedges catches a series of borderline pitches that are called strikes by the home plate umpire.
I queried all of the called strikes Hedges caught from the baseballsavant STATCAST database and mapped them based on their X (horizontal) and Z (vertical) coordinates. The "strike zone" is defined based on the horizontal coordinates of home plate (plate width), and the vertical coordinates are based on league averages. 
As seen above, there are a large number of balls called strikes outside of the defined strike zone. To connect this to the information presented previously, getting the pitches out of the zone called as strikes helps the pitcher drastically. Each strike called reduces the probability of offensive success.
The small, and sometimes undervalued act of pitch framing can play an integral role in keeping a potent offense at bay. It helps the pitching staff greatly, and can ultimately lead to more wins.